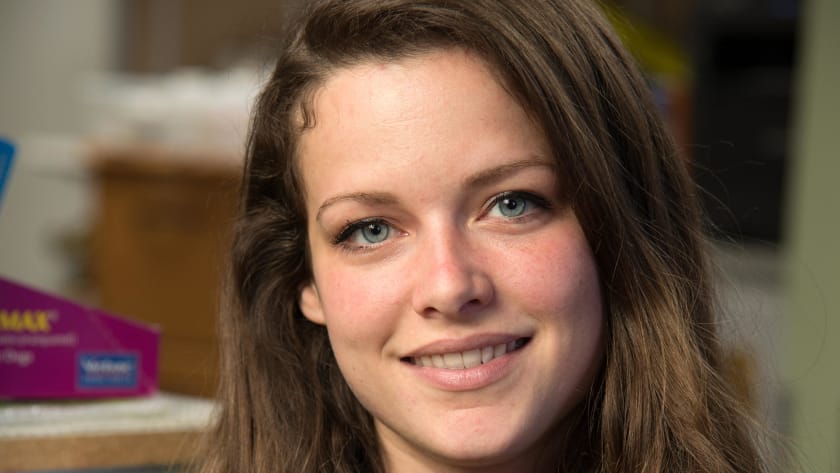 Dr. Amy Hutcheson
Planned Pethood Plus Veterinarian
Dr. Amy Hutcheson, 26, graduated from vet school in 2014 and is the newest member of Dr. Jeff's team. She's the rookie and still is coming to grips with clinic life. Although eager to learn and impress, she knows that working for Dr. Jeff isn't always easy. "At this clinic they sort of just throw you into the mix real quick. It's either sink or swim," she says.
Dr. Amy grew up in the fast-paced, competitive city of Chicago, and although her inherent shyness held her back at time, her conviction to save animals helped her find her confidence. Dr. Amy has always wanted to be a vet; when she was young, her parents rescued a badly burnt kitten that she nursed back to health.
After school, in a bid to branch out, Dr. Amy departed Chicago and saw America. During this period, she applied to Clemson University in South Carolina, where she could work with animals and do something new. Then, after graduating vet school at the University of Tennessee, she moved to Colorado and put her newfound self-confidence to the test. She drove by Planned Pethood Plus and immediately liked the clinic's location, name and what it stood for. She walked in and spoke to Dr. Jeff, and a few days later, she was hired.
Dr. Jeff's clinic and Dr. Amy are a perfect fit. Dr. Amy experiences something new every day while honing her craft. An avid childhood fan of Animal Planet's Animal Cops, Dr. Amy is now following their example by helping sick, neglected animals on a daily basis. With Dr. Jeff as her mentor, the clinic staff as her support system and a steely desire to learn, Dr. Amy's future looks very bright.