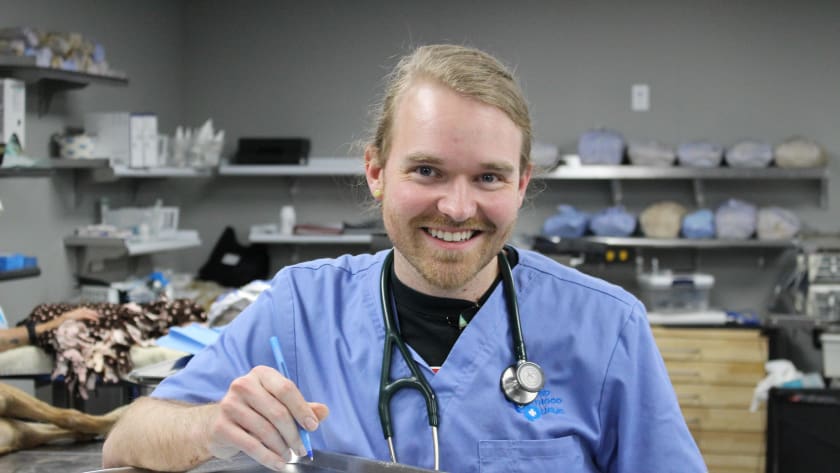 Dr. Donald Kraft
Planned Pethood Plus Veterinarian
Dr. Don Kraft joined the Planned Pethood team in 2014. At 29 years old he was only the 'new kid' for a month before Dr. Amy Huctheson began working at the clinic. Amy may have taken his rookie title, but Don is just as eager to learn from Dr. Jeff. After spending his first few weeks shadowing his new mentor, Don says, 'Jeff threw me into the deep end with my first solo surgeries. When he trusts you like that it gives you a confidence boost'.
Having moved states five times as a child for his Dad's work, Dr. Don started small with his pet ownership. He encouraged his parents to let him and his siblings have a goldfish as their 'little starter pet', before moving onto gerbils and finally graduating to a dog.
His love of science and animals in high school led him to his decision to study veterinary medicine. Driven by his sense of adventure and desire to see the world, Don accepted a place at the Royal Vet College in London.
Upon his return to the US, Don began looking for a workplace with a mission. His search led him to Planned Pethood Plus and Dr. Jeff. Aside from the great learning opportunities proffered to him working at the clinic, Don is inspired by Jeff's incredibly strong work ethic and dedication to his spay-neuter mission and affordable pet care for all.
He and his wife are owners of Apple, a talking cherry headed conure parrot, and have just recently adopted an eight-month-old black lab mix puppy, named Ollie. Owning pets as a kid not only taught Don about the basic needs of animals, but also what they need emotionally. 'Animals need love and attention and if you give that to them they'll give it back a hundred times. That's something I try to remember when I'm working with people's animals. They feel a bond with their owners and that's important to the people and the animals'. That sounds a lot like a long haired vet we know.