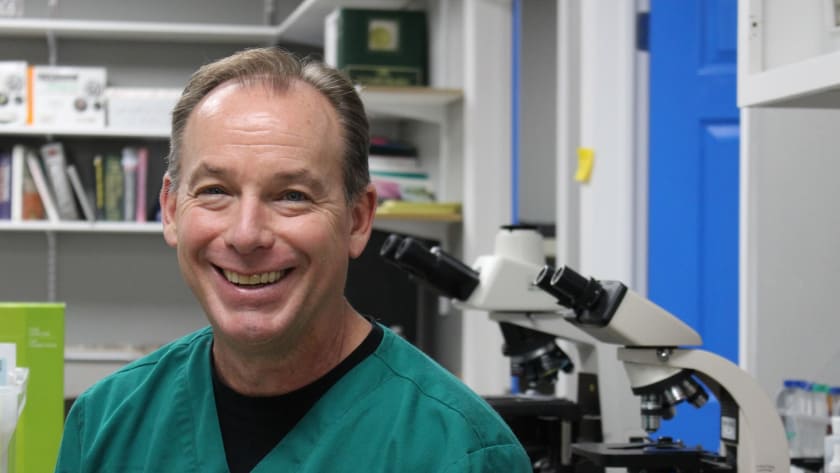 Dr. Jeff Baier
Planned Pethood Plus Veterinarian
Not to be confused with Planned Pethood's fearless leader, Dr. Jeff: Rocky Mountain Vet, Dr. Jeff Baier is the clinic's exotics expert, the latest addition to the team. He grew up on a farm in Nebraska surrounded by animals and was doing chores with his father as soon as he could walk. It was this, as well as his love of the TV show, Wild Kingdom, that inspired him to become a wild animal vet.
Graduating from the Kansas State University in 1993, Dr. Baier has spent much of his career working at zoos. He even spent some time living in one. During his stint at a New York zoo, Dr. Baier and his family had a house on the grounds and called lynx, elk and mountain lions their neighbors (not the kind of neighbors you'd invite over for dinner).
No pet is too unusual for Dr. Baier, who has treated everything from cats and dogs to wolverines and rhinos. He doesn't have a favorite animal, saying he takes care of way too many to have a preference. He currently has three dogs, three tortoises and three cats.
A few near misses, including almost being trampled by an escaped elephant, helped to steer Dr. Baier back in the direction of private practice and right into Planned Pethood. His interview with Jeff lasted all of about five minutes before he was offered the job.
Known to both staff and clients as a real people person and a highly competent vet, Dr. Baier is a great addition to the Planned Pethood team. He sees himself as a bit of a clinic dad and endeavors to impart his wealth of experience onto younger vets seeking advice and guidance whenever he can.