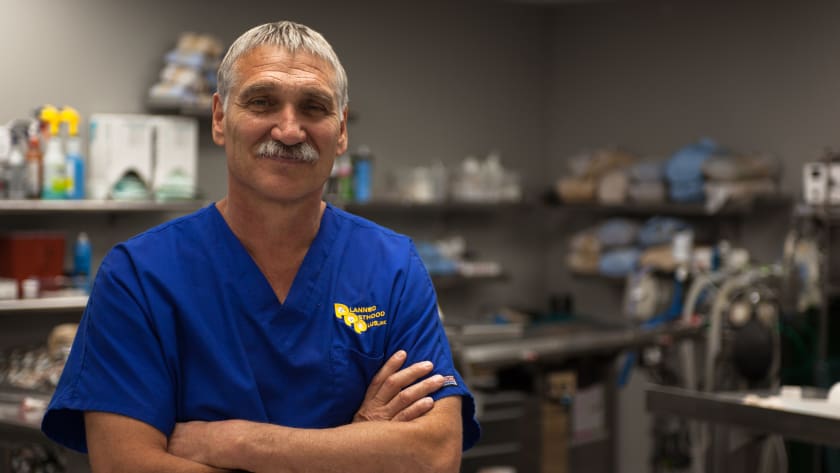 Dr. Jeff Young
"Veterinarian, Owner of Planned Pethood Plus"

Dr. Jeff Young is a charismatic hero who embodies a maverick, 'can-do' spirit while treating a wide variety of animals in Denver and beyond. Straight-talking, warm-hearted and effortlessly cool, he's one of America's busiest veterinarians. His clinic, Planned Pethood Plus, is a local landmark.
It's always a mad house in Dr. Jeff's animal house. With more than 80,000-plus clients, approximately 30 surgeries a day, 30 staff, a bustling emergency room, and a far-reaching mobile clinic, Dr. Jeff is under constant pressure to keep his staff, clients and patients both healthy and happy.
From the moment his childhood pet dog died, Dr. Jeff, then eight, knew he'd found his calling. His love for animals continued to grow as he would always try to free injured creatures, often taking them home as pets. After high school, his love for animals brought him to Colorado State University where he studied veterinary medicine, graduating in 1989. He was hired as an animal welfare officer in Fort Collins, Colorado, which bolstered his strong ethics on animal care.
Dr. Jeff felt dismayed that some veterinarians were driven by money rather than the well-being of their patients, so Dr. Jeff committed to his 'low-cost animal care for all' mission statement and moved to Denver. Working more than 100 hours a week, he built his Denver clinic and started travelling across America with his mobile clinic, which offers animal care to those who struggled to access it or can't afford it.
Dr. Jeff's biggest cause is spaying and neutering animals in an effort to control the population of cats and dogs that end up in shelters and improve health issues associated with intact pets. He provides low-cost spays and neuters for his clientele and has performed more than 165,000 surgeries.
Now 25 years later, Dr. Jeff's goal remains the same. Dr. Jeff lives and dies by his own code as rules sometimes are meant to be broken. He is not afraid to perform very difficult surgeries if he believes the outcomes could outweigh the risks. And, his loyalty to the welfare of animals sometimes calls for him to step in and remove pets from abusive owners and find them new, healthy forever homes.
Dr. Jeff always focuses on the big picture, which is why he values making a difference in Denver and across the country and beyond. Forever young at heart, Dr. Jeff loves the freedom, variety and sense of adventure that his mobile clinics offer. He has satellite clinics already in Mexico and Eastern Europe, contacts on every continent and a team that will follow him anywhere.
Dr. Jeff lives above the clinic with his wife Petra. When he's not at the clinic, he spends time coaching high school cross-country runners and focusing on karate at the dojo.