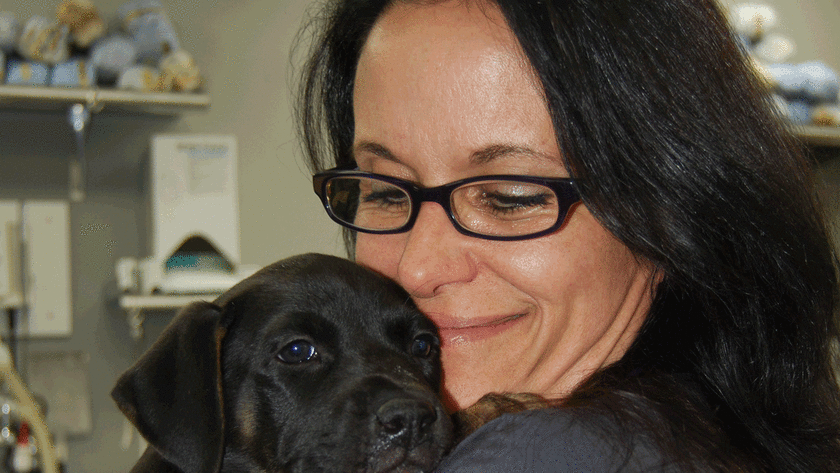 Shelly Hulen
Planned Pethood Plus Head Veterinary Technician
Shelly Hulen is Planned Pethood's peanut butter cup - hard on the outside and soft on the inside. Shelly is a fierce animal lover, a connection she feels may be even stronger than her bond with humans.
A Colorado native, Shelly first met Dr. Jeff when he came into a restaurant she worked at after a typical extra-long day of surgeries. It wasn't long before they hit it off, she was offered a job and traded in her apron for PPP scrubs. She hasn't looked back since.
When a scared or aggressive pet needs calming down, Shelly is the first port of call for the clinic's vets. She is adept at reading body language and goes above and beyond in order to make animals feel safe and get them the treatment they need. 'I help keep them calm and let them know we're not going to hurt them, we want to help them. I get on the floor, get close and hold them tight and act as a comfort or retreat for them. That's a sign of trust'.
Growing up Shelly always had a family dog and now she has two of her own - boxer-weimaraner sisters, Jazzmine (named after the Disney princess) and Catti-brie (named after character from one of her favorite books).
Dr. Jeff's low-cost vet care strikes a personal note with Shelly. She almost lost her dog to anaesthetic complications and was forced to spend half of her life savings in order to save her pet. Having been at Planned Pethood for seven years now, it's easy to see why Shelly is so loyal to Dr. Jeff - 'All you have to say is, I can't, and he'll say, okay, give me what you have'.
Shelly says that she and Jeff are like siblings. They're both stubborn as hell and often butt heads, but at the end of the day they want the same thing - to spread the spay-neuter message, to make animals better and to send them home with their loving owners.